The Best Among Roofing Contractors in Vinita, OK, is ABC Seamless of Northeast Oklahoma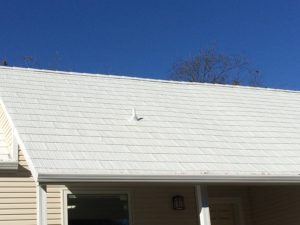 You have decided that you need new roofing for your home. But, what is your next step? Well, if you are like most homeowners in the Vinita, Oklahoma, area, then you'll start by looking at the qualifications of the roofing contractors in the area. But, let us save you a little time. There is only one roofing company that can offer the top-rated products and high level of service that you deserve – ABC Seamless of Northeast Oklahoma. While many roofing companies promise to offer the best, most will fall short. At ABC Seamless of Northeast Oklahoma, we will actually deliver, offering the best money can buy. We are so confident in the quality of our products that we even offer a lifetime, transferable, non-prorated limited warranty on all of our roofing.
The Best of the Best – Metal Roofing
While other roofing contractors might install subpar roofing that will need to be replaced sooner rather than later, we offer roofing to last a lifetime – metal roofing. Our metal roofing is made from 28-gauge, G-90, hot-dipped, galvanized steel and is rated class 4 impact resistant, providing impeccable resistance from all forces of nature, including hail and corrosion, as well as windblown debris. It will also be custom measured and cut to the exact dimensions of your home in Vinita, OK, to ensure a seamless appearance and keep out moisture and pests. Furthermore, it is designed to:
Reflect heat away from the home to improve energy efficiency, thanks to Cool-Roof technology
Resist wind speeds of up to 160 miles per hour, which is similar to the winds sustained by a strong EF-3 tornado
Be low-maintenance, never chipping, cracking, peeling, or fading
Want your metal roofing to be the talk of the town? If so, then we also offer many different colors, including solid, blended, and high definition options, as well as a range of styles and finishes to choose from for your metal roof. This way, your roof will be just as visually pleasing as it is durable and energy efficient.
Contact ABC Seamless of Northeast Oklahoma today to learn more about our metal roofing and why we are the best among roofing contractors in the Vinita, OK, area.