Steel Roofing Available in Broken Arrow, Claremore, Collinsville & Other Nearby OK Communities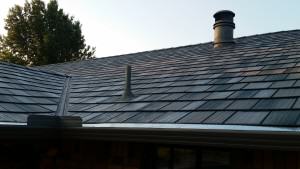 There are a wide variety of roofing materials available for your home in Claremore, Collinsville, Broken Arrow, or elsewhere in the region. However, the steel roofing materials offered by ABC Seamless of Northeast Oklahoma offer benefits that other roofing materials simply cannot match, and provide a permanent solution to your roofing needs.
An asphalt shingle roof can all too easily be damaged by strong winds or hail, leaving your home vulnerable to water damage. Steel roofing, on the other hand, can withstand winds of up to 160 mph, and because it is rated class 4 impact resistant, it provides superior protection against hail or windblown debris. That means you get an added sense of security any time severe weather strikes. And, while an asphalt roof needs to be replaced every 10 to 15 years, a steel roof from ABC Seamless of Northeast Oklahoma is truly the last roof you will ever need to buy.
But, our steel roofing materials are not only incredibly strong – they're also energy efficient, providing a level of home insulation that other materials cannot match. We use products with "Cool Roof" paint technology, which helps reflect heat away from your home during hot summer months and can reduce the burden on your air conditioning unit. That can mean big savings in your energy costs each year.
At ABC Seamless of Northeast Oklahoma, we offer two steel roof options for your home in Collinsville, Broken Arrow, Claremore, or any other nearby OK community. First, our steel roofing will provide a streamlined, sophisticated look for your home, improving its curb appeal. Second, our Arrowline metal shingles provide a more traditional appearance, and are available in a variety of styles, including:
Shingle shake
Shake
High-definition slate
And more
Regardless of the style you choose, your new steel roof will last a lifetime – structurally and aesthetically. We coat all of our heavy-gauge steel roofing products with a Kynar® 500 architectural coating to enhance resistance to damage from UV rays. This means you can rely on that vibrant, like-new appearance to last well into the future. Plus, with our factory-trained professionals handling the installation, you can trust that your new metal roof will stay in place, even in the harshest of conditions. We also back up our products with a lifetime, non-prorated limited warranty, and our service with this promise: if there's ever a problem, you can call us day or night, and we'll make it right.
Contact ABC Seamless of Northeast Oklahoma for more information about the various steel roofing options that we offer for your home in Claremore, Broken Arrow, Collinsville, or any nearby OK community.