Steel Soffit and Fascia for Residents of Pryor Creek, Chouteau, Locust Grove & All Nearby OK Communities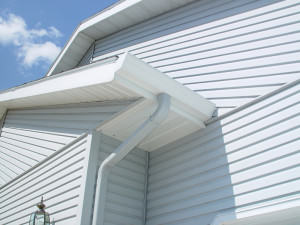 It's important to care for the soffit and fascia on your home in Chouteau, Pryor Creek, Locust Grove, or any other nearby community in Oklahoma, and ABC Seamless of Northeast Oklahoma is happy to help. Attractive fascia, or the vertical face of the roofline of your home, can vastly improve your home's curb appeal. While the soffit – the bottom portion of the overhang – is also an important aesthetic element, it also helps prevent moisture damage to your roof and external walls. By using steel materials, and placing them in the hands of our expert installers, we can provide you with a beautiful, maintenance-free soffit and fascia system that will last the lifetime of your home.
Our pros use 28-gauge galvanized steel and fabricate everything on-site to ensure a precise fit. Because of the quality of the steel products we use, you will never have to worry about scraping, painting, or otherwise caring for your roofline and overhang again, aside from an occasional wash. And, when you combine these enhancements with our seamless steel gutters and steel roofing, you will create a cohesive look that can dramatically improve the value of your home in Locust Grove, Pryor Creek, Chouteau, or other nearby OK community.
Installing steel soffit and fascia offers a host of benefits, including:
Long-lasting beauty – Steel maintains its like-new appearance. It won't easily dent like aluminum or crack like vinyl. Plus, thanks to our Kynar® Duck-Matte and 5 mil PVC, it won't fade under prolonged UV exposure.
Unbeatable strength – All of our steel products are proven to hold fast even in gale-force winds and can easily withstand impacts from hail or windblown debris.
Attractive options – With more than two dozen colors to choose from, you can have your steel materials customized to match or complement the overall appearance of your home.
Contact ABC Seamless of Northeast Oklahoma today to learn more about our steel soffit and fascia remodeling services. We're proud to serve the residents and businesses of Chouteau, Locust Grove, Pryor Creek, and surrounding OK locales.