Seamless Steel Gutters for Homes in Miami, Grove, Vinita & Surrounding OK Communities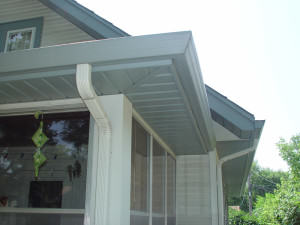 Seamless steel gutters from ABC Seamless of Northeast Oklahoma are an ideal way to protect your home from water damage in Grove, Vinita, Miami, or any other nearby OK community. The sturdy construction of our gutters means they can handle even the most torrential downpours, and also withstand the strong winds and hail that can sometimes accompany such storms. A gutter system made of any other material simply cannot provide your home with the same level of protection in the midst of severe weather.
But it's not just the strength of steel that is important – it's also the quality of our craftsmanship. Our seamless gutters will be fabricated on-site to the exact dimensions of your home by our factory-trained installers. This precise construction and installation process enhances the inherent strength of our steel gutter system, and by eliminating unsightly, leaky seams, the result is a gutter system that looks and performs flawlessly year after year.
Other benefits of having ABC Seamless of Northeast Oklahoma install seamless steel gutters on your home in Vinita, Grove, Miami, or other nearby OK community include:
Reliability – In addition to withstanding summer storms, our steel gutters can support the heavy weight of snow and ice in the winter.
Unified look – They're designed to integrate into your home's soffit and fascia system, creating a cohesive appearance and enhancing your home's curb appeal.
Zero maintenance – Our steel gutter systems never require scraping or painting, so they will keep looking amazing for years to come.
Contact ABC Seamless of Northeast Oklahoma today to learn more about our seamless steel gutters and the ways in which they can help you protect your home in Miami, Vinita, Grove, or any other nearby OK community. And, be sure to also ask about the gutter guards that we have available.