Metal Roofing from ABC Seamless is an Ideal Choice for Your Home in Vinita, OK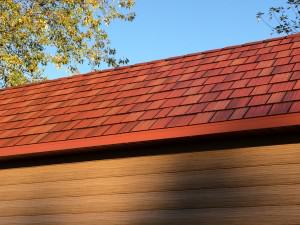 A metal roofing system provides superior durability and protection against the elements. If you're looking for a metal roof for your home in Vinita, there's no better company to turn to than ABC Seamless of Northeast Oklahoma. Our metal roofs come with advanced features such as Cool Roof Technology for better energy efficiency, and are rated to withstand wind speeds of up to 160 miles per hour.
When you choose ABC Seamless for your new roof, our factory-trained employees will carefully and precisely install your new roof so that it is properly secured and will look great. Our metal roofing is available in many different styles, including:
Horizontal panels
Shakes
Shingle shake
Slate shingles
High definition slate shingles
What's more, these metal roofing styles can be further customized with our wide range of color and coating options so that you can find the perfect look to suit your personal taste and complement your home's aesthetics. And with a lifespan that's more than twice as long as that of an asphalt roof, a metal roof from ABC Seamless will likely be the last roof you'll ever need to buy. We even back our roofing installations with a lifetime, transferable warranty so that your investment will be protected well into the future.
For more information on our metal roofing products and custom installation services, or to schedule a free consultation in Vinita, OK, contact ABC Seamless of Northeast Oklahoma today.