Equip Your Home With the Best Soffit & Fascia Available in the Vinita, OK, Area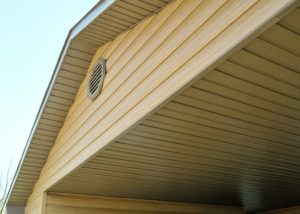 Your home in Vinita, Oklahoma, is likely one of your most important investments, so ensuring that it is always in tiptop shape should be high on your to-do list. If your gutters are sagging and dented, then get them replaced. If your siding is faded, worn, and/or infested with mold and mildew, then it is time for an upgrade. If your roofing has seen better days, then invest in a new roofing system. The same goes for soffit and fascia. While these exterior products are often overlooked components of your home, they require just as much care and consideration as your roofing, siding, and gutters. So, if your soffit and fascia are no longer performing as they should, then turn to the professionals at ABC Seamless of Northeast Oklahoma for a durable, stunning soffit and fascia system that will last well into the future.
Steel Soffit & Fascia – Providing Years of Beauty and Performance
Here at ABC Seamless of Northeast Oklahoma, we provide all of our Vinita, OK, area homeowners with the best soffit and fascia that money can buy – 28-gauge, galvanized steel soffit and fascia. This soffit and fascia system provides homeowners with a range of benefits, including:
Impeccable durability – Our steel soffit and fascia will not dent or crack over time, and it can stand strong even in gale-force winds while also resisting impact damage.
Easy maintenance – Thanks to its steel construction, the soffit and fascia will never require scraping and painting. Plus, it features a Kynar® Duck-Matte and 5 mil PVC that will prevent fading even after years of UV exposure.
Stunning beauty – Homeowners can choose from dozens of colors to create a visually pleasing system that will complement all existing areas of the home.
What's more, our highly trained and experienced technicians will fabricate your system onsite, ensuring a perfect fit.
For more information on the soffit and fascia that we can install for homeowners in the Vinita, OK, area, contact ABC Seamless of Northeast Oklahoma today. And, be sure to ask about the other steel products that we offer, including siding, roofing, and house gutters.