Durable, Seamless House Gutters to Improve Homes in Vinita, OK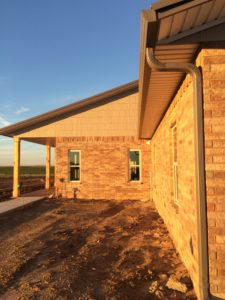 Are your current house gutters giving you some trouble? Are they filled to the brim with leaves? Are they leaking? Are they causing precipitation to pool under your eaves, possibly leading to costly moisture damage to your home's basement, landscaping, or foundation? If the answer is yes, then don't delay in getting your gutter system replaced. Call on the experts at ABC Seamless of Northeast Oklahoma to install new seamless gutters at your house in Vinita, Oklahoma. Having worked in the home improvement industry for decades, we are quite familiar with all of the gutters available on the market. We have taken the time to find the best option for our customers, and we are sure you will be pleased with the end result.
The Best Gutters are Seamless Gutters
At ABC Seamless of Northeast Oklahoma, we know that the best gutters are large, seamless steel house gutters, which is why we only install this option for residents of the Vinita, OK, area. Our gutter systems are 30 percent larger than traditional gutter systems to help move more water away faster from your home and prevent overflow onto your roof. They are also fabricated right onsite to the exact dimensions of your home in order to eliminate the pesky seams that can get clogged by wind-blown or free-falling debris, such as leaves and twigs. Plus, they are constructed of heavy-gauge, hot-dipped, G-90 galvanized steel that is designed to prevent scratching and denting over time. And, they are also installed with heavy duty hangers, which are designed to help hold up your gutters even under extreme weather conditions.
Warranty Coverage for Life
It is clear that our house gutters are a step above the rest. From a seamless fabrication and durable hangers to a large, steel construction, our gutter systems are the epitome of perfection. Yet, here at ABC Seamless of Northeast Oklahoma, we also want you to have peace of mind that your gutters will last for as long as you own your home. That is why we also provide a lifetime prorated warranty, so you can enjoy all that our gutters have to offer – for life.
To learn more about our house gutters, contact ABC Seamless of Northeast Oklahoma. We are proud to serve all homeowners in the Vinita, OK, area.