High-Performance Steel Roofing Installed for Homeowners in Pryor, OK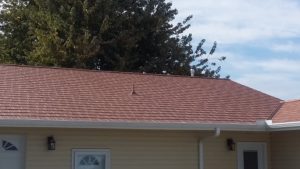 Sturdy steel roofing can certainly make your Pryor, Oklahoma, home stand out, no matter the roof's color or whether it's shingles or shakes. But steel roofs offer much more than stunning visual appeal. They are arguably the most durable type of roofing on the market. At ABC Seamless of Northeast Oklahoma, we install steel shingle shakes as well as steel slate. Constructed from heavy-gauge, hot-dipped, G-90 galvanized steel, these roofing systems can last a lifetime and require no maintenance.
A Lifetime Roofing System
We call our roofs lifetime roofing systems for several reasons. Not only do they provide the highest possible rating for protection against damage from hail and wind-driven debris, but they can also resist winds up to 160 miles per hour. That's the speed of a strong EF-3 tornado! ABC Seamless roofs also:
Reflect solar heat effectively, which can ease your HVAC system's workload and curb your energy costs
Utilize "Cool Roof" paint technology to reflect heat away from your roof, making our steel roofs among the most energy efficient available
Are customizable in a variety of solid, blended, and high-definition colors that can beautifully complement your home's exterior
Are impervious to mold and mildew growth, as well as corrosion, cracking, chipping, fading, and peeling
Outstanding Warranty Protection for ABC Seamless Steel Roofing
ABC Seamless of Northeast Oklahoma guarantees that any steel roofing system we install will reliably protect your Pryor, OK, home year after year. To that end, we confidently back our steel roofs with a lifetime warranty. For more information, or to schedule a complimentary consultation that includes a no-obligation quote, contact ABC Seamless of Northeast Oklahoma.