Steel Soffit for Residents of Broken Arrow, OK, and Beyond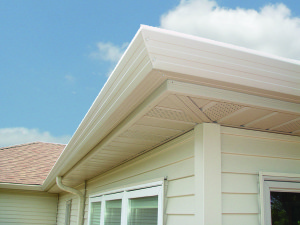 Soffit is an important part of your house in Broken Arrow, contributing to the aesthetics of your home's exterior as well as helping to prevent moisture damage to other parts of your house. When you're in need of new soffit, the company to turn to is ABC Seamless of Northeast Oklahoma. We are proud to offer steel products and professional installation services that will fix your home exterior problems.
At ABC Seamless, we manufacture steel soffit that is:
Durable – We use heavy-gauge, G-90 galvanized steel that offers better durability than vinyl and aluminum products. Our steel products offer protection against impact and can withstand high wind speeds.
Attractive – Available in a number of aesthetically pleasing colors, you'll be able to customize the look of your house in Broken Arrow, OK, to suit your taste and improve its curb appeal. Plus, with its highly fade-resistant finish, it will continue to look great over the years without the need for scraping, repainting, or other maintenance.
Secure – We use interlocking panels that are specially designed to prevent separation over time. Plus, our installation involves screwing in the soffit, which is more secure than the stapling job that most other companies do.
In addition, the expert installers at ABC Seamless will custom cut your soffit so that it fits perfectly to your home. We also back our products and work with a lifetime, transferrable warranty, giving you peace of mind that your investment will be protected.
To learn more about the steel soffit and other home exterior products we manufacture and install for homeowners in Broken Arrow, OK, contact ABC Seamless of Northeast Oklahoma today.