Steel House Siding Provides Unsurpassed Protection for your Home in or near Tahlequah, OK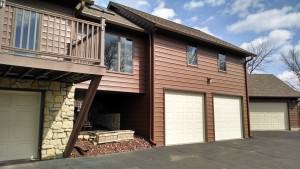 The seamless steel siding offered by ABC Seamless of Northeast Oklahoma is ideal for homeowners in or near Tahlequah who want to shield their homes from damage while also providing superior energy efficiency. Plus, because it's seamless, your home's profile won't be marred by unsightly gaps that can diminish its curb appeal.
Seamless siding offers several important benefits for homeowners, including:
Appearance – We fabricate each panel of our amazing siding on-site, using the precise dimensions of your Tahlequah home. This ensures a perfect fit from corner to corner, leaving your home looking sleek and sophisticated, and because it won't warp or wrinkle, it'll keep looking great for decades to come.
Energy efficiency – Gaps in other siding products allow unwanted, outside heat to enter your home in the summer and interior heat to escape in the winter. The result is more work for your HVAC system as it struggles to maintain a comfortable indoor temperature, no matter the season. We wrap your home in a base layer of high quality insulation and top it with seamless steel panels, ensuring that your home has the best opportunity to maximize the efforts of your heating and cooling system.
Pest control – Gaps in wood or vinyl clapboards provide an ideal entrance point and nesting ground for a variety of insects, which can burrow into the wood base of your home's exterior walls and wreak havoc.
To learn more about the seamless steel siding we offer for homes in or near Tahlequah, OK, contact ABC Seamless of Northeast Oklahoma today.