Expert Siding Installation for Homeowners in Vinita, OK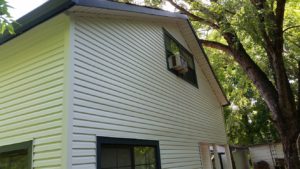 Siding installation is no job for beginners or weekend do-it-yourselfers. It requires painstaking care and more than a little construction knowledge. This helps explain why residential siding installation is most often performed by siding companies with trained installers. As you shop around for siding services in the Vinita, Oklahoma, area, keep in mind that many siding companies sell similar types of siding—typically vinyl—but not all companies offer the same level of installation expertise. Then, there are some companies, like ABC Seamless of Northeast Oklahoma, that stand out from the pack in every way.
The ABC's of Siding Products and Services
Unlike many years ago when wood, stone, or stucco were the only types of siding available, today's siding is engineered from several different modern materials, like aluminum and engineered wood. But none of them is as strong or durable as steel. That's why we install heavy-duty steel siding that may likely be the last home siding you'll ever need. Not only does steel siding protects homes longer than conventional options, but it also maintains its structural integrity in any kind of weather. At ABC Seamless of Northeast Oklahoma, our siding is:
Built from 28-gauge, G-90 galvanized steel that resists chipping, warping, and cracking and can protect homes from pounding hail, strong winds, and high-speed impacts
Equipped with Cool-Roof technology that reflects heat away from the home, which is one of the reasons it's ENERGY STAR® rated for exceptional energy efficiency
Available in lots of distinctive siding styles like board and batten, shake, Dutch lap, and even steel log designs
Installed with no seams, for a sleek, seamless look and even more protection against insect infestation and moisture infiltration
If you'd like more information about siding installation services that ABC Seamless of Northeast Oklahoma offers in the Vinita, OK, area, why not contact us today? We can schedule a consultation at your convenience and give you a free estimate for a top-quality siding replacement project.