Entrust Your Exterior Remodeling Project to the Best Among Siding Contractors Serving Pryor, OK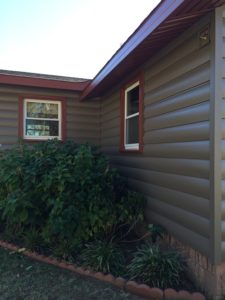 If you reside in Pryor, Oklahoma, then you know that there is no shortage of siding contractors, all of which promise to be the best. However, seasoned, well-informed homeowners know that, if you want only the finest siding installation experience, then ABC Seamless of Northeast Oklahoma is the company to call. We have been serving the local community for many years, providing the epitome of excellence in all that we do. In fact, during our many years in business, we have earned numerous accolades for our exceptionality, including an ABC Seamless National "Franchise of the Year" Award. And, we continue to maintain an A+ rating with the Better Business Bureau.
Why Partner With Us?
Here at ABC Seamless of Northeast Oklahoma, we are delighted by the many awards and designations that we have received throughout the years. However, we are even prouder of what we have to offer. Homeowners that choose to work with us over other siding contractors benefit from:
Seamless and hardwearing 28-gauge, G-90, hot-dipped, galvanized steel siding products that will stand the test of time. It will not warp, chip, or crack, and because it's also seamless, any risk of moisture infiltration is greatly reduced.
Our years of industry experience that have made us a master in our craft. In fact, ABC Seamless is on Qualified Remodeler's Top 500 Remodeling Companies list.
Highly trained technicians who will install your new house siding with skill and precision, ensuring long-lasting performance.
Siding in an array of attractive design profiles to boost your home's curb appeal. If you're not sure what combination of style and color will suit your home best, your ABC Seamless design consultant will gladly help.
Enhanced home energy efficiency, thanks to the layer of insulation that we'll install under your new siding. As they say, a more energy-efficient home is one that can stay warm in the winter and cool in the summer, with lower energy bills, and that should warm any Pryor homeowner's heart.
Covered for Life
Unlike other siding contractors that can leave you high and dry if something was to go wrong after the completion of the project, we stand behind both our products and our installations. Because our siding is customized to the exact dimensions of the house and are cut to fit onsite, you can be confident that it will fit your home like a glove, providing weather-protection that will give you confidence. Plus, we back our steel siding with a lifetime, transferable, non-prorated limited warranty for your peace of mind. Plus, we abide by our philosophy of "undivided responsibility." If something goes wrong at any point after we complete the installation, then we will be there promptly to fix the problem.
To learn more about what makes us the premier option among siding contractors serving the Pryor, OK, area, contact ABC Seamless of Northeast Oklahoma today. We can arrange a free, no-obligation consultation at your convenience.