Steel Siding Offers a Lasting Solution for Homeowners in Collinsville, OK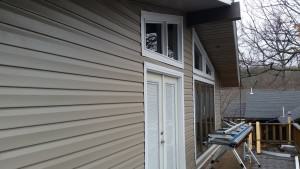 If you're looking to replace the siding on your home in Collinsville, Oklahoma, the ideal material to choose is steel. Steel siding offers unbeatable durability and lasting protection for your house, as it is designed to resist damage from hail, wind-driven debris, insects, and more. At ABC Seamless of Northeast Oklahoma, we proudly manufacture and install durable steel siding for homeowners throughout the region. Because our product is customized to the exact dimensions of the house and cut-to-fit on-site, we are able to offer a truly seamless solution for home exteriors.
In addition to the durability that steel provides, there are many other benefits to choosing ABC Seamless of Northeast Oklahoma to replace the siding on your Collinsville, OK, home, including:
Aesthetically pleasing options – We offer many different style, color, and finish options so you can choose a look that suits your home's architecture and improves its curb appeal.
A low maintenance design – Our fade-resistant design means you won't have to worry about scraping and repainting your home year after year. Plus, our siding is guaranteed not to warp, buckle, peel, or blow off as a result of temperature swings or strong winds.
Improved energy efficiency – By reflecting radiant heat away from the house and reducing air leaks, a seamless steel exterior contributes to the energy efficiency of your home.
Protection for your investment – We back our products and installation with a lifetime warranty so you have additional peace of mind in your investment.
When you have ABC Seamless of Northeast Oklahoma install seamless steel siding on your home in Collinsville, OK, you can be confident in your choice. Contact us today for more information and to get started.