Seamless Steel Siding Offers Incomparable Protection for Homes in Tahlequah, OK & All Surrounding Communities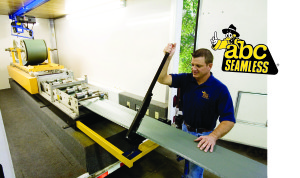 Seamless steel siding from ABC Seamless of Northeast Oklahoma offers an insurmountable shield of protection for your home in Tahlequah, or any surrounding community. Our siding experts know precisely how to wrap your home in a veritable coat of armor that will not only keep the structure and its inhabitants safe, but will look great for many years to come.
Seamless steel siding offers a number of important benefits for discerning homeowners in Tahlequah and nearby OK communities who want to protect their investment in their homes. These benefits include:
Energy efficiency – Gaps in other siding products allow unwanted heat to enter your home in the summer, and unwanted cold to enter in the winter. The result is more work for your HVAC system as it struggles to maintain a comfortable indoor temperature.
Appearance – By fitting snuggly and precisely from corner to corner, seamless siding panels do not warp, wrinkle, or form gaps along the wall. Your home will have a cohesive, finished look for years to come.
Pest control – Gaps in home siding provide an ideal nesting ground for a variety of insects, which can burrow into the wood base of your home's exterior walls and wreak havoc.
But, in addition to aesthetics, our siding also offers extraordinary protection. We manufacture our siding panels using heavy-gauge galvanized steel that will protect against damage from hail, wind-blown debris, and impacts from errant toys.
For more information about our seamless steel siding for your home in Tahlequah, OK, or any nearby community, contact ABC Seamless of Northeast Oklahoma today.