Seamless Steel Siding for Homeowners Wanting to Upgrade Their Homes in or near Tahlequah, OK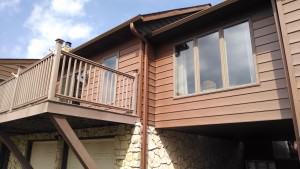 With seamless steel siding from ABC Seamless of Northeast Oklahoma, your home in or near Tahlequah will have the ultimate protection against hail and wind-blown debris, and it will even help to better insulate your home. We have helped countless residents protect their homes by having our highly trained experts install the finest home renovation products on the market. Because our seamless siding is fabricated from heavy-gauge steel, it provides a virtually indestructible layer of protection for your home, as well as a lasting investment.
We create your new house siding right on the job site, using 28-gauge, hot-dipped, G-90 galvanized steel. Cut to the precise measurements of your home, your house siding will stretch as a solid unit from corner to corner, eliminating those unsightly seams, gaps, warps, and wrinkles that mar the profile of a home sided with inferior, pre-fabricated materials.
Seamless steel siding provides incredible protection for your home in or near Tahlequah against damage from:
Wind-blown debris
Fire
Hail
Accidental impacts from wayward toys, balls, etc.
And more
We're confident that, with our steel siding, you will never have to worry about exterior maintenance on your home again. Plus, we absolutely stand behind all of the work we perform. In the unlikely event that a problem should arise with any of our products or services, we are available, day or night, and will make sure to correct the issue quickly.
For more information about our seamless house siding products or installation services, contact ABC Seamless of Northeast Oklahoma today. We're proud to serve homeowners in Tahlequah, and other nearby OK communities.