Seamless Steel Gutters for Homes in Broken Arrow, Claremore & Other Northeast Oklahoma Communities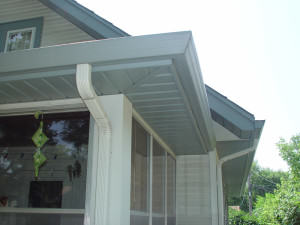 If you're interested in seamless gutters to replace the leaky traditional gutters on your home in Broken Arrow, Claremore, or other community in Oklahoma, consider the designer steel gutter systems offered by ABC Seamless of Northeast Oklahoma. Our gutters are superior in quality to any other gutter system on the market – the quality, thickness, and maintenance-free qualities of our seamless steel gutters make them unlike any competing system. By purchasing a gutter system from ABC Seamless, you'll be investing in the last gutter system you'll ever need for your home.
Our seamless gutters are manufactured on site, using the exact dimensions of your home's roof line, which means they are guaranteed to fit precisely to the perimeter of the house. A tight fit makes our gutter system more durable than aluminum or vinyl gutters, which come in pre-cut lengths and can pull away from the home at the seams. Gaps between sections and between the roof and the gutter create opportunities for leaks, sending water to the ground along your home's foundation, where it can seep into your basement. Seamless gutters channel water away from your home, keeping water away from areas where it can cause problems for your home. Plus, because our gutters are designed to carry away 33 percent more water than conventional gutters, they will perform flawlessly even in the most torrential downpour.
If you want more information about our extraordinary seamless steel gutters for your home in Broken Arrow, Claremore, or elsewhere in OK, contact ABC Seamless of Northeast Oklahoma today. Plus, be sure to ask about our Hurricane Leaf Protector™ gutter covers, which are guaranteed to keep your gutters clear of leaves, twigs, pine needles, and other organic material.