Metal Roofing from ABC Seamless is the Best Way to Top Your Home in Broken Arrow, OK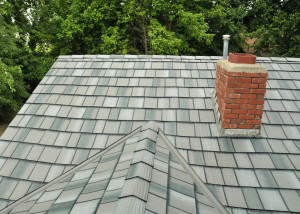 Metal roofing has long been the strongest, most durable shield against the elements for homes in Broken Arrow and other Oklahoma communities. Now, thanks to innovations from ABC Seamless, it's a top contender for beauty and style as well.
The company known for its long-lasting seamless steel siding has introduced the world's first horizontal, seamless steel roofing panels, crafted to last a lifetime and available for homes in the Broken Arrow, OK, area. The metal roofing panels from ABC Seamless of Northeast Oklahoma are custom-manufactured on site to fit the precise measurements of your home, giving it a sleek, gleaming, tailored look that is sure to be the envy of the neighborhood. They're made of sturdy, top-quality steel that's galvanized to prevent rust and specially coated to hold its color, no matter how hard the sun beats down. But the innovations don't stop there. Here are a few more of the benefits of having ABC Seamless metal roofing installed:
The highest protection possible against damage from wind and hail. Our seamless steel roof panels carry the highest residential rating for impact resistance and can withstand winds up to 160 mph.
Technology that increases the reflective properties of metal roofing. Our ENERGY STAR-rated seamless steel panels reduce the amount of heat from the sun that finds its way into your home, and that can translate into lower energy bills for you when you depend less on your HVAC system to keep your home comfortable.
A non-prorated, limited lifetime warranty that means you'll never have to shop for another roof as long as you own your home. Even better, though, this warranty is transferable and may increase your home's market appeal should you decide to sell it.
If your aesthetic tastes incline toward a more traditional look, or your homeowner association requires it, we also offer sturdy steel roofing that gives the appearance of classic asphalt, distinctive slate, or rustic shake shingles. This type of metal roofing from ABC Seamless of Northeast Oklahoma carries the same benefits as our seamless steel roof panels.
For more information about innovative metal roofing options for your home in Broken Arrow, OK, or one of the surrounding communities, contact ABC Seamless of Northeast Oklahoma today.