Top Quality Metal Roofing for Homes in Vinita, Grove, Miami, or Other Nearby OK Communities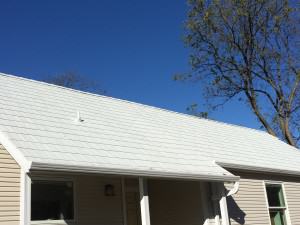 Metal roofing products from ABC Seamless of Northeast Oklahoma offer superior protection for homes in Vinita, Grove, Miami, and other area communities. We have faithfully served homeowners throughout the region for years, helping them beautify and fortify their homes, using remarkably attractive products to shield against unpredictable weather and other unforeseen occurrences. This is especially true of our metal roofing materials, which provide an uncompromising and unfailing coat of armor to protect your home.
We offer roofing materials made from heavy-gauge steel, finished to either emulate more traditional roofing materials or to provide a sleek, sophisticated visual impact that simply cannot be matched. But the most important benefits homeowners in the Vinita area receive from our metal roofing are related to the function of the roofing itself. For instance:
Impact protection – Our steel roof panels offer unflinching protection against impacts from hail, wind-blown debris, and other materials.
Fire protection – Because steel does not burn, embers from backyard bonfires or sparks from family fireworks won't pose a threat to your home.
Energy efficiency – Our Cool Roof Technology reflects sunlight and reduces the impact of direct sun exposure on your home's energy bills in the summer.
What's more, we stand behind all of our roofing installations with a lifetime, non-prorated, transferrable warranty, guaranteeing that your investment in your home is absolutely protected.
To learn more about our metal roofing and how it can help protect your home in Vinita, Grove, Miami, or other nearby OK community, call ABC Seamless of Northeast Oklahoma today.