Ruggedly Strong House Siding for Homes in and near Grove, OK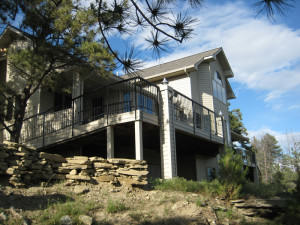 If the time has come to replace the siding on your house in or near Grove, Oklahoma, then the siding experts at ABC Seamless of Northeast Oklahoma are ready and eager to help. We have worked tirelessly for years to help homeowners like you who want to not only improve the way their homes look, but also increase the level of protection and energy efficiency of the structure. We use top-notch products, installed by expert craftsmen, all in order to achieve extraordinary results.
Our amazing house siding is made from heavy-gauge steel, fabricated right on your property using the precise measurements of your home. That enables us to create a coat of armor that stretches seamlessly from corner to corner with a sleek, finished look. Plus, our siding uses hot-dipped, G-90 galvanized steel, which puts rust to rest. Your new house siding will continue looking terrific for years to come, without:
Wrinkles, warps, or gaps, which can arise with standard siding that comes in pre-cut lengths
Fading, as can happen under the constant glare of the sun
Dings, dents, cracks, or other damage from hail or debris impacts, which can mar siding made from less-sturdy materials like vinyl or wood
With your home wrapped in our beautiful, dependable siding, you won't need to worry about scraping, painting, or other exterior maintenance again.
To learn more about our house siding products in or near Grove, OK, contact ABC Seamless of Northeast Oklahoma today.