Home Siding Products and Installation Services for Homeowners in Claremore, Tahlequah, Broken Arrow, or Elsewhere in OK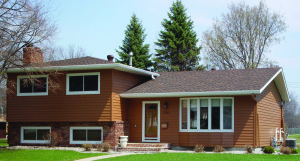 For new home siding to protect your residence in Claremore, Tahlequah, Broken Arrow, or any nearby community, trust the exterior renovation experts at ABC Seamless of Northeast Oklahoma. Our seamless steel siding products are some of the most durable and beautiful on the market today, providing a virtually indestructible layer of protection and a lasting investment in your home. If the siding on your house needs to be replaced, having the professionals at ABC Seamless of Northeast Oklahoma handle the job makes good sense.
We use heavy-gauge, hot-dipped, G-90 galvanized steel to create our home siding products, making them thicker and stronger than vinyl and other siding products on the market. This means your home will forever be shielded from damage from:
Fire
Wind-blown debris
Hail
Other destructive elements that can wreak havoc on your home
Plus, the steel siding we install in Broken Arrow, Claremore, Tahlequah, and surrounding OK communities is 100 percent seamless, which means there are no unattractive gaps, seams, warps, or wrinkles to mar the profile of your home. Our siding products are fabricated on site, using the precise dimensions of your house. This guarantees a perfect, seamless, and snug fit, eliminating the spaces where insects can burrow and nest or where heat and cold air can escape your home. In fact, with a layer of premium insulation and no gaps, you could see a drastic difference in your energy bills once our siding has been installed, since your HVAC system will not have to work as hard to keep the indoor temperature of your home comfortable.
For more information on our home siding, or to receive an estimate on your exterior renovation project in Tahlequah, Broken Arrow, Claremore, or any nearby community, contact ABC Seamless of Northeast OK today.