Seamless Steel Gutters for Homeowners Living in or near Tahlequah, OK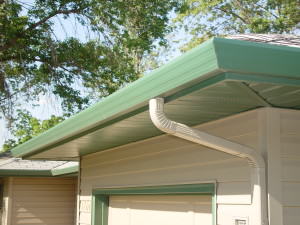 If the time has come to replace your gutters on your home in or near Tahlequah, Oklahoma, then the time has come to call ABC Seamless of Northeast Oklahoma. We have been the go-to home improvement contractor in the region for years, helping homeowners to better protect their properties with top-notch products installed with unmatched craftsmanship.
Our rugged steel gutters are fabricated on site, using the precise measurements of your home's roofline. The result is a sleek, seamless gutter system that stretches flawlessly from corner to corner and blends in perfectly with your soffit and fascia. Because they are made from heavy-gauge steel, you won't ever need to worry about your new gutters buckling under the weight of snow and ice in the winter, or crumpling when you need to lean a ladder against them. They'll also hold fast and secure in even the heaviest of rains and most severe storms.
Properly functioning gutters are a critical safeguard for your Tahlequah home against costly water damage, such as:
Roof rot – If water pools in your gutter system, it can seep into the roofing underlayment of your home, rotting the wood and exposing your attic and walls to pests and weather damage.
Basement flooding – If rain water and snow melt leak from your gutters, it can seep into your home's foundation and flood the basement, destroying your belongings.
Landscape erosion – Water that is not properly channeled away from your home can wash away valuable topsoil and destroy costly landscaping efforts.
To learn more about how our steel gutters can help protect your home in or near Tahlequah, OK, Call ABC Seamless of Northeast Oklahoma today.