Seamless Steel Gutters to Protect Your Home in Grove, Miami, Vinita, or Nearby OK Community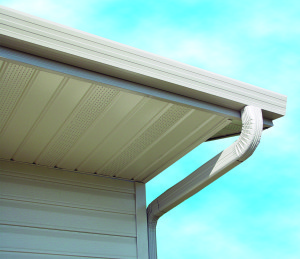 The gutters on your home in Grove, Miami, Vinita, or any other area community, are an important defense against costly water damage. Gutters channel rain water and snow melt away from your home, allowing it to seep into the soil safely rather than damaging the infrastructure of your property. ABC Seamless of Northeast Oklahoma has assisted many homeowners in the region to repair and upgrade their gutter systems by installing seamless steel gutter products that not only effectively manage moisture, but also hold up well in extreme wind and under heavy snow, ice, and other loads. If it's time to replace your existing gutters, ABC Seamless is the company to call.
We will fabricate your gutter system right on the job site, using precise measurements from your home's perimeter. This creates a gutter that stretches seamlessly from corner to corner, eliminating the possibility of leaks and weak points. That's important for homeowners in the Grove area, because:
Leaks allow water to splash on the topsoil under the gutters, which can eventually erode the landscaping.
Weak spots create opportunities for water to pool in the gutter, and that water can then either seep into the roof decking and rot away the wood, or can create such a heavy load that the gutters tear away from the roof.
Plus, if water is not channeled away from your home's foundation, it can seep into the basement, where it can cause substantial damage from mold and mildew growth. If water freezes and thaws in the foundation walls, it can create substantial cracks and compromise the integrity of your home's support system.
Ensure your home is protected against such damage. Call ABC Seamless of Northeast OK today and have us upgrade your gutters to protect your property in Grove, Miami, Vinita, or nearby community.