Seamless Gutters by ABC Seamless for Homeowners in Collinsville, OK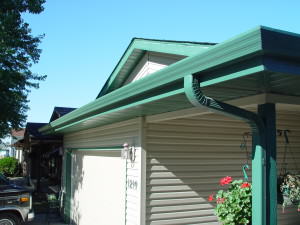 If you've been thinking about replacing the gutters on your home in Collinsville, Oklahoma, turn to the professionals at ABC Seamless of Northeast Oklahoma. We install designer gutters that are made out of durable steel and offer numerous advantages over the traditional K-style gutter.
When you choose ABC Seamless for you gutter installation, you'll benefit from the:
Fascia-style gutter system that is designed to blend in or integrate with the soffit and fascia on your Collinsville, OK, home so that you hardly notice that the gutters are there
Improved functionality from a gutter system that is about 30 percent larger than the traditional K-style gutter
Hidden steel hangers, which are much stronger than aluminum hangers so that they can withstand ice loads in harsh winters
Double-flow downspouts that are able to handle double the water flow of traditional gutter systems
High-quality installation process we use to securely screw in the hangers to the your home rather than using nails that can come loose
In addition, we offer our gutters in the same colors as our soffit and fascia products so that you can perfectly match your home exterior if you so choose. We also offer the Hurricane Leaf Protector™ to help prevent clogging. No matter what you want for your new gutter system, you can be confident in your selection when you choose ABC Seamless.
Contact ABC Seamless of Northeast Oklahoma today for more information and to get started having new gutters installed on your Collinsville, OK, home.