Seamless Steel Gutters from ABC Seamless are the Perfect Addition for Your Home in Broken Arrow, OK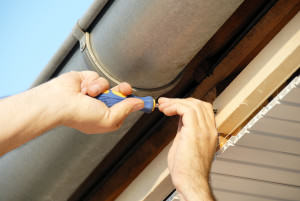 Leaky, sagging gutters on your home in Broken Arrow, OK, are more than just an eyesore – they could lead to major repair bills down the road. Fortunately, ABC Seamless of Northeast Oklahoma has the expertise needed to replace those worn out gutters and replace them with a beautiful, dependable gutter system that blends flawlessly into your home's profile and efficiently channels water away from your home where its impact is minimized. If it's time to replace your existing gutters, ABC Seamless of Northeast Oklahoma is the company to call.
Our gutter specialists will fabricate your new gutter system right on site, using the precise measurements of your home in or near Broken Arrow, OK. The result – a seamless gutter trough that stretches from corner to corner, eliminating unsightly seams and drastically reducing the opportunity for leaks to develop. That's important because leaky gutters can result in:
Basement flooding
Landscape erosion
Soiled or rotted siding
What's more, a sagging gutter system can cause water to pool and seep into your home's roof system, where it can rot out the roof decking. Once inside your home, water can trickle down the inside of your walls, fostering the growth of mold and mildew and destroying the integrity of your home's infrastructure.
To make sure your home is safeguarded against such damage, call the home improvement professionals at ABC Seamless of Northeast Oklahoma. We proudly install seamless steel gutters on homes in Broken Arrow, OK, and all surrounding communities.