Choose Gutter Installation from ABC Seamless of Northeast Oklahoma for Your Home in Vinita, OK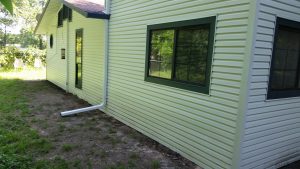 When it comes to gutter installation, you'll want to select a company that can provide you with the epitome of excellence, from first-rate products to a top-of-the-line installation. If you live in the Vinita, Oklahoma, area, then the company to choose is ABC Seamless of Northeast Oklahoma. Our gutter systems are made from one of the most durable materials available: heavy-gauge, hot-dipped, G-90 galvanized steel. This construction allows our gutters to provide a level of protection that is unmatched in any weather condition. And, to further help our gutters stand strong in inclement weather, as part of our gutter installation services, we equip our gutter systems with heavy-duty hangers.
Yet, even the strongest, most durable gutters will not perform as they should unless they are installed correctly, which is why we use only factory-trained and -certified technicians during each gutter installation. Plus, our gutter systems are crafted to fit the exact dimensions of the roof, which allows for seamless construction. Their seamless construction helps prevent many of the problems associated with traditional K-style gutters, which contain splices that can become clogged with debris, such as:
Basement flooding
Landscape erosion
Soiled or rotten siding
Infrastructure damage
What's more, our gutters are made to avoid water overflow, with the capacity to carry 30 percent more water away from your Vinita, OK, home than traditional gutters. And, you can count on both superior protection for your home and your gutter system, as our gutter systems come with a lifetime prorated warranty.
To learn more about the long-term advantages of having ABC Seamless of Northeast Oklahoma perform a gutter installation at your home in Vinita, OK, contact us today.